Air Conditioning Courses For Electricians
Certificate II in Split Air Conditioning and Heat Pump System
This air conditioning course helps get you qualified in the installation, commissioning and decommissioning of certain types of single head, split air conditioning and heat pump systems up to 18kW.
Our course offers a combination of practical experience and online learning, giving you the knowledge and skills needed to pursue a career in the air conditioning and heat pump systems industry.
98% of our students receive qualifications after successfully completing our comprehensive 2 day course and online theory!
Air Conditioning Courses Australia Wide
Get Skilled Training's split system air conditioning course is currently being delivered in multiple locations, including most states and capital cities of Australia.
This Certificate II in Split Air Conditioning and Heat Pump Systems satisfies the requirements for workers to apply for a
Refrigerant Handling Licence
with the
Australian Refrigeration Council (ARC)
.
I was really impressed with how professionally the courses were run. Nick, Col and the other trainers were great. Very friendly and approachable with loads of relevant industry experience to share. The online theory material was comprehensive, and delivered in a fool-proof manner. I cant fault my experience with Get Skilled Training.
Highly recommended.
John Smith
Course Information
The UEE20111 – Certificate II in Split Air Conditioning and Heat Pump Systems is an air conditioning course for electricians and 3rd and 4th electrical apprentices who wish to learn new skills and formalise their qualifications.
Get Skilled Training is proud to offer recognised, comprehensive air conditioning training in Australia, that complies with current ARC licencing requirements.
Our air conditioning course includes training that can be applied to wall hung, floor and ceiling suspended, cassette and ducted fan coil systems and water heating heat pump systems. The course does not include competencies required for service, repair, maintenance, diagnostic/fault finding and electrical work, or the safe and proper installation of commercial refrigeration, air conditioning and heat pump plant and equipment.
Further studies can be undertaken to gain these additional qualifications – please see the Career Pathways section below for more information.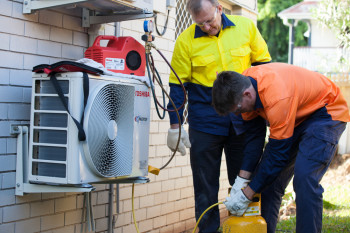 For electricians – Electrical Work Licence
For 3rd and 4th electrical apprentices – Who have Successfully completed the units of competency outlined in the first year of an electrotechnology apprenticeship and have at least two years of industry experience.
For non-electrical workers – Recognition of prior learning (RPL) is offered if you have a trade qualification in one of the following trades:
– Plumbing
– Gas fitting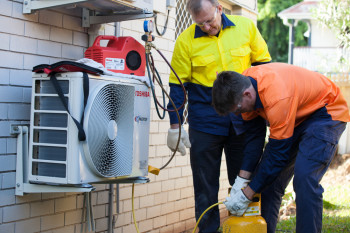 Note: For students wishing to undertake installation and decommissioning of split systems in New South Wales, there is additional state-specific legislation that requires any air conditioning work to be completed by a Refrigeration or Air Conditioning tradesperson or under the supervision of a qualified supervisor in this specialised trade.
Before signing up to this split system course, we recommend you contact NSW Fair Trading on 13 32 20 to discuss your specific situation and eligibility.
Get Skilled Training also provides the air conditioning courses in various locations across Australia. We have approved training venues at Toowoomba, Mackay, Cairns, Bunderberg, Yeppoon, and capital cities around Australia.
To see all current locations and upcoming dates, please see our map.
The cost of our UEE20111 – Certificate II in Split Air Conditioning and Heat Pump Systems course varies by location. Please select a course location on our map at the bottom of this page, or call us directly on 1300 856 832 for more information.
Course Duration / Delivery
The course duration will be determined during a pre-assessment process. The split system course involves 2 days* of practical tasks and assessments, based on experience and the individual training needs of each student. This face to face training is completed with an online theory component. Students may also be required undertake workplace learning in industry to fulfil their training requirements before undertaking assessment. Students will be given 12 months to complete this qualification from the date of enrolment.
This course covers all the required knowledge and skill involved in preparing and connecting refrigerant tubing and fittings, recovering, pressure testing, evacuating, charging and leak testing refrigerants in split systems. In addition, it also covers positioning, assembling and starting up single head split air conditioning and water heating heat pump systems.
Simulated Workplace Environment – You will conduct on hands training at one of our approved training venues around Australia. This off-job training provides you valuable experience and knowledge to successfully install and decommission air conditioning split systems. You will also apply environmentally-friendly and sustainable procedures during their course.
Online Theory Component – Alongside the practical components of this course, you will need to complete online theory, demonstrating their understanding of course units. This online component can be completed at your own pace, and includes videos created by our trainers to assist with your knowledge and understanding in installing and decommissioning split system air conditioners.
Workplace based training for learners under the supervision of an ARC licensed supervisor – Students who identify during the pre-assessment process of having little to no experience, knowledge or developed skills with the installation, commissioning and decommissioning will be required to nominate an ARC licenced supervisor to undertake workplace based training. A profiling report must be completed by the supervisor and learner to ensure required skills can be developed in the workplace over time.
*The number of days of face to face practical training and assessment is determined for each individual learner based on a pre-screening assessment and how each person meets the pre-requisite
Units Of Competency
Unit

Name

UEENEEE038B

Participate in development and follow a personal competency development plan

UEENEEJ102A

Prepare and connect refrigerant tubing and fittings

UEENEEJ105A

Position, assemble and start up single head split air conditioning and water heating heat pump systems

UEENEEJ172A

Recover, pressure test, evacuate, charge and leak test refrigerants – split systems

UEENEEK142A

Apply environmentally sustainable procedures in the energy sector

Non-electrical workers who require prerequisites for this course, will also have to satisfy the below units of competency through recognition of prior learning:

UEENEEE101A:

Apply Occupational Health and Safety regulations, codes and practices in the workplace

UEENEEE102A

Fabricate, assemble and dismantle utilities industry components

UEENEEE105A

Fix and secure electrotechnology equipment

UEENEEE107A:

Use drawings, diagrams, schedules, standards, codes and specifications

UEENEEE137A

Document and apply measures to control OHS risks associated with electrotechnology work

The compulsory elective unit includes:

UEENEEC001B

Maintain documentation
Course Outcome & Career Pathways
Successfully completing one of our air conditioning courses will satisfy the requirements of the ARC, allowing you to apply for a restricted Refrigerant Handling Licence.
This Refrigerant Handling Licence is known as the Restricted Split System Air Conditioning Installation and Decommissioning Licence.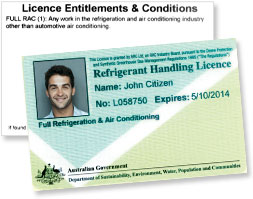 If you successfully complete the UEE20111 – Certificate II in Split Air Conditioning and Heat Pump Systems, you may undertake further studies to gain additional qualifications. These include a Certificate III in Air Conditioning and Refrigeration (UEE32211) or other qualifications listed in the UEE11 Training Package.
Click here for the full list of UEE11 qualifications that are available. For further information on our air conditioning courses, feel free to give our office a call on 1300 856 832.
Get Skilled With Our Air Conditioning Courses Today!
Get trained and qualified with our air conditioning courses for electricians around Australia.
Contact Get Skilled Training today on 1300 856 832 or by filling out our online contact form, and you can become licensed in the installation and decommissioning of split air conditioning systems today!
To view our upcoming split system course dates visit our location pages: Brisbane, Perth, Melbourne, Sydney, Canberra, Adelaide, Hobart, Darwin.
Awesome training and assessing experience, quality staff and quality information! Will recommend to anyone.
Highly recommend Get Skilled, professional from the first phone call right through to the teachers/trainer assessors and it was a well priced course. Cheers guys.
Great training, comprehensive course with great facilities. Am now confident to get out there and do some split installs.