Refrigeration Courses for Electricians
Get Skilled Training offers a nationally accredited Refrigeration Courses, including UEE20111 – Certificate II in Split Air Conditioning and Heat Pump Systems for those wanting to obtain a Refrigerant Handling Licence (Arctick Licence). This allows you to install and decommission split systems air conditioners, and we run this refrigeration course in
Brisbane
,
Sydney
,
Melbourne
,
Perth
,
Adelaide
,
Canberra
,
Hobart
,
Darwin
and other locations across Australia.
"A Refrigerant Handling Licence must be held by any person who carries out work in relation to refrigeration and air conditioning (RAC) equipment. Carrying out work in relation to RAC equipment means to do anything with a fluorocarbon refrigerant, or a component of RAC equipment, that carries the risk of refrigerant being emitted, including: decanting the refrigerant or manufacturing, installing, commissioning, servicing or maintaining RAC equipment or decommissioning RAC equipment.Handling fluorocarbon refrigerant without the appropriate licence is an offence. National regulations are in place which affect people who acquire, possess, dispose of or handle ozone depleting substances or synthetic greenhouse gases."
Refrigerant Handling Licence – Split Air Conditioning and Heat Pump Systems
Get Skilled Training air conditioning course involves installing, commissioning and decommissioning single head, split air conditioning and heat pumps systems to an assigned routine where the maximum plant capacity for each system does not exceed 18 kWr.
Through theoretical and practical training we will cover the installation and commissioning of floor and ceiling suspended, wall hung, cassette and ducted fan coil split systems and water heating heat pump systems. The course will also cover decommissioning and refrigerant recovery to a suitable cylinder which is also covered under a restricted Refrigerant Handling Licence.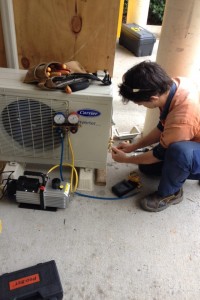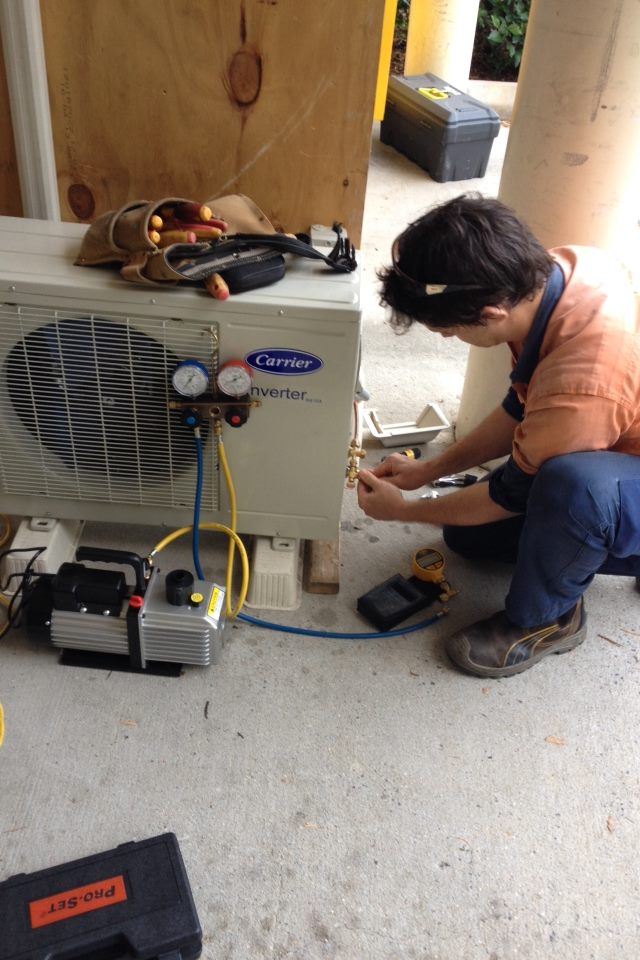 This qualification excludes skills necessary for service, maintenance, repair, diagnostic/fault finding and electrical work or the safe and appropriate installation of commercial refrigeration, air conditioning and heat pump plant and equipment.
Upon completion of the course, students may apply for the RSS03 – Restricted Heat Pump (Split System) Installation and Decommissioning Licence through the Australia Refrigeration Council. Your refrigerant handling license allows you to legally install and decommission single head split systems up to 18kWr.
Click here
 to read more about each licence and what is required to obtain the licences. To find out more about Get Skilled Training's nationally accredited course UEE20111 – Certificate II in split Air Conditioning and Heat Pump systems 
click here
.